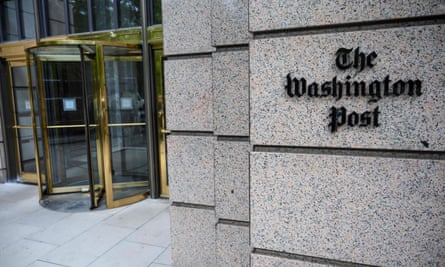 Amid intense speculation to the contrary, the tech billionaire Jeff Bezos last week sought to reassure a nervous newsroom at the Washington Post that he was not seeking to sell the august newspaper.
The rumors, stoked by layoff anxiety at the newspaper and – again, speculation – that another multibillionaire, Mike Bloomberg, is in the market for the title, had been the subject of feverish debate in US media circles.
Anxiety peaked 10 days ago when Bezos visited the Post and reaffirmed his commitment to journalism, but just four days before the paper announced a wave of layoffs across the title.
On the surface, nothing had changed but the story did serve to illustrate how well the recent marriage of rich tech moguls and US media has worked out after a wave of wealthy men (and women) purchased troubled news outlets, in some cases, after decades of dynastic family ownership.
With the valuations of tech companies now falling across the sector, what would be the knock-on to media outlets that the tech billionaires bought as totems of prestige, influence and public service, and who may have imagined that they could refashion for a modern media by consumer-focused data technology?
Some experts think recent years have been a rude awakening for US media's new ruling class.
"I think Bezos came in thinking he understood technology in a way that old-fashioned newspaper people don't," said Eli Noam, professor of tele-information at Columbia University and author of 2015's Who Owns the World's Media?. "He discovered that technology doesn't really work to overcome the structural problems of the print industry. Or if it does, it works for everybody else, too."
Over the past decade, the influx of tech money into the news media was as dramatic as it was surprising. Bezos bought the Post from the Graham family in 2013 for $250m; eBay founder Pierre Omidyar pumped the same sum into First Look Media; Laurene Powell Jobs bought a controlling stake in the Atlantic for a reported $160m; Biotech billionaire Patrick Soon-Shiong paid $500m for the Los Angeles Times; and Salesforce founder Marc Benioff bought the rights to the trademark "Time" for $190m.
The trend for tech money to buy media companies, Puck pointed out last week, led journalists to comfort themselves with the idea that "mega-successful economic animals would view their work product like a piece of art or an heirloom".
That calculus is now challenged as the US news industry struggles with the problems that have beset it for years: declining print products, struggles to make money online and a wealth of upstart digital rivals. "Part of the newspaper business has been kept afloat, beyond underpaying its staff, by some form of private generosity and philanthropy. That will continue, but for non-business motives and for amplifying your voice," said Noam.
"This generation of tech billionaires has probably reduced its appetite for print publications, and there's a growing scepticism of their ability to turn the business around in the face of fundamental trends," he added.
In parallel but reversed trends, "new" media organizations with no relation to legacy print are also under pressure.
Vice Media, which received investment from Disney and 21st Century Fox, and was once valued at $5.7bn, is on the block for less than $1bn. In December, loss-making Buzzfeed recently announced it was cutting 12% of its estimated 1,522 employees.
Separately, the news startup Semafor said last week it was looking to return $10m in funding it received from the indicted crypto king Sam Bankman-Fried, following the lead of Vox Media and ProPublica.
According to a report by PriceWaterhouseCoopers, the tech deals market more broadly essentially froze in the last three months of 2022 with both deal value and volume decreasing 83% and 57%, respectively. "It's a broad deal market story, not that they're weaning off media," said Lori Bistis, a tech and media deals expert at the consultant. One exception would be Google's YouTube securing rights to broadcast some NFL games next season. "Everyone is waiting to see what happens with interest rates and valuations," Bistis added.
But the impression that media companies could be run as consumer-focused tech companies like Amazon or Google may have been misinformed, said Robert Thompson, founding director of the Bleier Center for Television and Popular Culture.
"Tech, by it's very name, is science. Media companies, at least when we talk about content, is show business, and show business really resists behaving in predictable ways," he said.
And yet the value that Bezos is able to leverage from the Washington Post is unmistakable and lies beyond the paper's profit and loss accounts. And they are the same ones that have always attracted people to media ownership: influence and prestige.
"Washington is full of issues that affect Amazon and owning the Washington Post gives you soft power," said Noam. "Everybody knows it and understands it." People always say Bezos personally owns the Post but that's a distinction without a difference."
For Bezos, as for the other billionaire tech-media investors, Thompson said: "It's a complex recipe of prestige, ego, the history of the Post, the ways it can be leveraged culturally and politically. What matters is how competently tech comes up with ways to make it into new media – and that's a lot harder than it looks."
Complex consumer data signatures and real-time analytics tools can strongly influence what stories are written and how news is promoted at many news organisations, echoing features of addictive games, and raising questions about the news media's public accountability and issues of managerial surveillance and discipline, said Caitlin Pietre, author of All the News That's Fit to Click.
"We saw publishers adapting themselves, and in some cases contorting themselves, to fit whatever the platforms were demanding. The search for reach, and optimizing for social media, really got internalized by organizational cultures and newsrooms.."
That internalisation of tech into media companies has actually had a rebound relationship on some of the tech platforms themselves: yet another twist in a bafflingly complex relationship. Layoffs at Meta's Facebook have included department heads at journalism outreach projects.
Still, Thompson believes that even now newspapers can still be unique products despite the growing power of tech and the people that run it. "Content is the wild card, because however many audience profiles you do it refuses to give up its secrets. Robotics might be able to do everything humans can do better at some point, but show business may be one of the last," he said.