New York: A business tycoon long sought by the government of China and known for cultivating ties to Trump administration figures including Steve Bannon has been arrested in New York on charges that he oversaw a $US1 billion ($1.5 billion) fraud conspiracy.
Guo Wengui, 54, and his financier, Kin Ming Je, faced an indictment on Wednesday (US time) in federal court in Manhattan charging them with various crimes, including wire, securities and bank fraud. Guo was charged in court papers under the name Ho Wan Kwok.
US prosecutors said the indictment stemmed from a complex scheme in which Guo lied to hundreds of thousands of online followers in the US and around the world before misappropriating hundreds of millions of dollars.
Kin Ming Je, 55, has not been arrested. Guo was expected to appear in court on Wednesday. His attorney did not immediately comment.
The top federal prosecutor in Manhattan, US Attorney Damian Williams, said in a release that Guo was charged with "lining his pockets with the money he stole, including buying himself, and his close relatives, a 50,000 square foot mansion, a $US3.5 million Ferrari, and even two $US36,000 mattresses, and financing a $US37 million luxury yacht."
Guo was once believed to be among the richest people in China. He left in 2014 during an anti-corruption crackdown led by President Xi Jinping that ensnared people close to Guo, including a top intelligence official. Chinese authorities have accused Guo of rape, kidnapping, bribery and other offenses.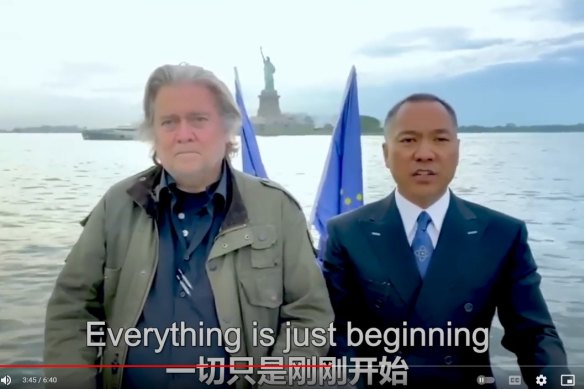 Since then, has been highly sought by that nation's government, relying on the US for protection.
As he lived in New York as a fugitive he became an outspoken critic of the ruling Chinese Communist Party and developed a close relationship with Bannon, President Donald Trump's former political strategist. Guo and Bannon in 2020 announced the founding of a joint initiative they said was aimed at overthrowing the Chinese government.