Earlier this week, Microsoft quietly released a new patch KB5021751. Some users reported that Windows 10/11 systems have received related notifications.
Microsoft does not shy away from the role of patches, and bluntly stated that the purpose is to find outdated Office versions, including Office 2013/2010/2007, etc., but the purpose is not clear.
There is speculation that Microsoft may be in order to determine the current number of Office 2013/2010/2007 installations. The patch will only run once silently and will not install anything extra on the user's computer.
It is reported that Office 2013 is scheduled to end its service in April 2023, and Microsoft is sparing no effort to promote Microsoft 365 (formerly Office 365).
Of course, some people are also worried that there are a lot of pirated installations of Office 2013. Is Microsoft planning to take a ruthless hand?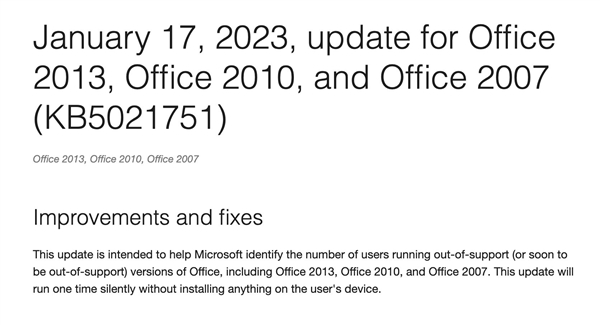 source