Australian Prime Minister Albanese said Australia must diversify its trade and economic benefits from China away to countries such as India and Indonesia.
With economic cooperation a main topic during his three-day visit to Indonesia, Albanese brought with him a high-profile delegation of CEOs from Australia's biggest companies, including Commonwealth Bank, Telstra, Wesfarmers, and Fortescue.
"We'll continue to work on trade diversification though, as it is important because at one stage the trade proportion for China was up above 45 percent," Albanese said in a press conference on June 7.
"We need to make that we diversify the opportunities, which are there. Indonesia is obviously a very important element in that."
The Prime Minister revealed that Greg Combet, the former Labor Minister under Kevin Rudd and Julia Gillard who now chairs IFM Investors and Industry Super Australia, would lead a delegation of super fund industry heads to Indonesia in the coming weeks to look for investment opportunities.
"Indonesia will grow to be one of the top five economies in the world in coming years. What that represents is an enormous opportunity for Australia," he said.
Indonesia, despite its proximity and population of 270 million, is only Australia's 13thbiggest export market. In 2020, Australia exported goods of $160 billion to China, compared with $17 billion to India and $7 billion to Indonesia.
Albanese said both India and Indonesia have enormous opportunities for Australia, noting that the rank of Indonesia in Australia's partner lists "should be much higher."
"Common-sense tells you that that's the case," he said.
In the economic coercion of Australia in recent years, Beijing has put tariffs, bans, and other restrictions on about $20 billion worth of Australian goods including coal, wine, beef, barley, and lobster.
Albanese said in the press conference that the Chinese regime must lift unfair sanctions on Australian exports.
"I have said that the sanctions have been imposed by China are unjust and should be removed. That remains my position and that should occur."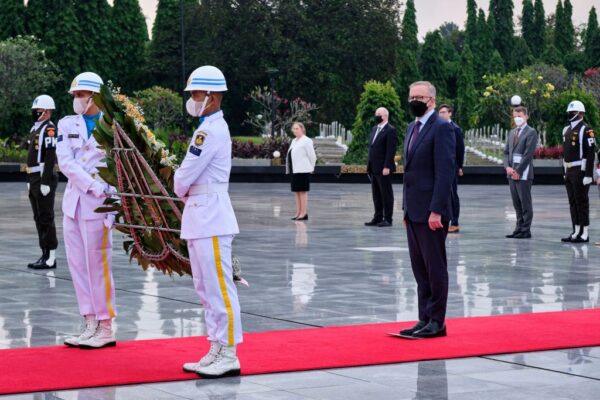 China's ambassador to Australia Xiao Qian suggested earlier this month that trade sanctions would not be lifted until the "political relationship" between Canberra and Beijing improves.
Matt Comyn, CEO of Australia Commonwealth Bank, who accompanied Albanese to a business dinner in Indonesia, said the bank has been in the Indonesian market for 25 years and supports Australian companies to build closer economic ties with Indonesia.
"It's a very large market. It's a huge population with a good growth profile for Australian business. It's definitely a market they should be considering," he said the Sydney Morning Herald reported.