China has reportedly offered Sri Lanka a two-year debt moratorium as "an immediate contingency measure" to support Sri Lanka in securing a $2.9 billion bailout package from the International Monetary Fund (IMF).
In a letter sent to Sri Lanka's Finance Ministry on Jan. 19, the Export-Import Bank of China said that it would grant a delay on the debt service due in 2022 and 2023, as well as a suspension on loan interest repayment.
The letter states that Sri Lanka "will not have to repay the principal and interest due of the bank's loans" during the two-year period, and the bank will support Sri Lanka's application for an IMF program.
It remains unclear whether China Exim bank's letter would satisfy the IMF's requirements to secure the bailout package that Sri Lanka needs for its economic recovery.
India, another major creditor to Sri Lanka, had agreed to extend financing assurances to the IMF in support of Sri Lanka's debt restructuring and urged other creditors to take "proactive steps" to facilitate Sri Lanka's recovery.
"Our expectation is that this will not only strengthen Sri Lanka's position but ensure that all bilateral creditors are dealt with equally," Indian External Affairs Minister Subrahmanyam Jaishankar told reporters on Jan. 20.
Sri Lanka had $13.8 billion in bilateral debt as of September 2022, of which 52 percent is owed to China, according to Sri Lanka's finance ministry (pdf). Japan holds 19.5 percent of Sri Lanka's debt, while India holds another 12 percent.
Sri Lanka and the IMF have reached a preliminary agreement on a 48-month bailout plan, but the IMF said the deal is contingent on approval by its executive board and financing assurances from Sri Lanka's creditors, including China, Japan, and India.
Central bank chief P. Nandalal Weerasinghe said Tuesday that Sri Lanka hoped to complete its debt restructuring in six months.
By end-2020, Sri Lanka owed China Exim bank $2.83 billion, or 3.5 percent of the island's external debt, according to IMF data.
Sri Lankan President Ranil Wickremesinghe said in November 2022 that loans borrowed from China Exim Bank by some state-owned firms will be classified as government debt to strengthen the companies' financial statements.
These companies include Ceylon Electricity Board, Sri Lanka Ports Authority, and Airport and Aviation Services. Sri Lanka would also take over the guaranteed foreign exchange debt owed by the Ceylon Petroleum Corporation.
Cargo Services Hub Deal
Transport Minister Bandula Gunawardana said Tuesday that Sri Lanka has agreed to set up a cargo services hub in Colombo Port under a joint venture with the state-owned China Merchant Ports, according to local reports.
The project, which was proposed to Sri Lanka in July 2021, is estimated to cost $150 million in investment. Gunawardana did not specify a completion period.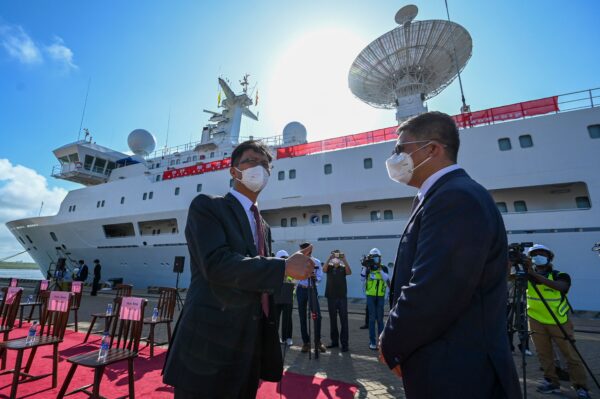 China's Belt and Road Initiative (BRI, also known as One Belt, One Road) has been ascribed to Sri Lanka's economic turmoil. In 2017, Sri Lanka leased its Hambantota port to China for 99 years to convert its Chinese loan into equity, prompting tens of thousands of protesters to rally against the deal.
Sri Lanka previously requested that China amend the terms of a $1.5 billion yuan-denominated swap facility that it signed in 2021, which stipulates that the fund can only be used provided that Sri Lanka has enough foreign reserves to last three months.
The country's unprecedented economic crisis has left millions of its people in need of life-saving aid, with severe shortages of essential medicines and frequent power cuts jeopardizing the country's health care system. But it has since shown some signs of progress following the IMF preliminary deal.
Reuters contributed to this report.