Ukrainian President Volodymyr Zelenskyy is saying Wednesday that "the pain is unspeakable" after a helicopter crashed just outside Kyiv, killing the country's interior minister and 14 other people. 
Interior Minister Denys Monastyrskyi, who oversaw Ukraine's police and emergency services, is the most senior official to die in Ukraine since Russia invaded nearly 11 months ago. 
Monastyrskyi's deputy Yevhen Yenin and State Secretary of the Ministry of Internal Affairs Yurii Lubkovych were also among those killed in the crash in Brovary, according to Ihor Klymenko, the chief of Ukraine's National Police.
"The pain is unspeakable," Zelenskyy wrote on his Telegram account, describing the disaster as a "terrible tragedy" on a "black morning." 
RUSSIA TO EXPAND SIZE OF ITS MILITARY TO 1.5 MILLION TROOPS, DEFENSE MINISTER SAYS 
Zelenskyy said three children were among those dead and that 25 people were injured, including 10 children.
"I have instructed the Security Service of Ukraine, in cooperation with the National Police of Ukraine and other authorized bodies, to find out all the circumstances of what happened," he said.
Nine of those killed were aboard the chopper when it crashed, while the others who died were on the ground, officials said, according to Reuters. 
There was no immediate word on whether the crash – which was near a kindergarten – was an accident or related to the war. No fighting has been reported recently in the Kyiv area. 
At the scene of the crash, at least four bodies on the ground were covered by reflective sheets as officials cleared helicopter debris from a kindergarten playground, according to The Associated Press. Wreckage also sat on top of a charred vehicle and a building.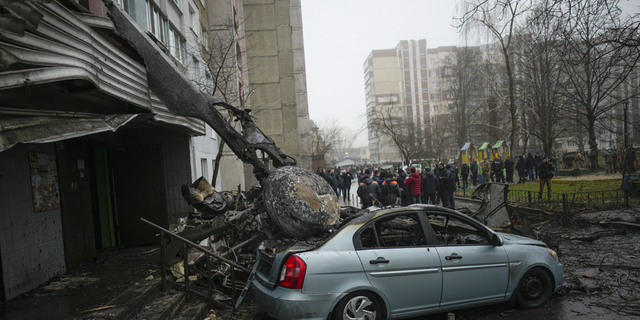 GERMANY'S DEFENSE MINISTER RESIGNS AMID CRITICISM OVER HANDLING OF UKRAINE WAR 
"It is too early to talk about the reasons," for the crash, the spokesperson for Ukraine's Air Forces, Yurii Ihnat, told a television channel. He said an investigation could take some time. 
The helicopter was a Super Puma supplied by France, he added.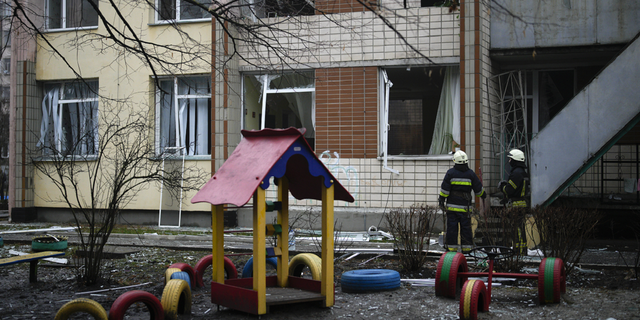 The crash happened days after a Russian strike on the apartment building in southeastern Ukraine killed 45 people, including six children. 
"Another very sad day today – new losses," said Ukraine's first lady, Olena Zelenska, dabbing teary eyes and pinching her nose as she responded to the news while at the World Economic Forum in Davos, Switzerland. 
CLICK HERE TO GET THE FOX NEWS APP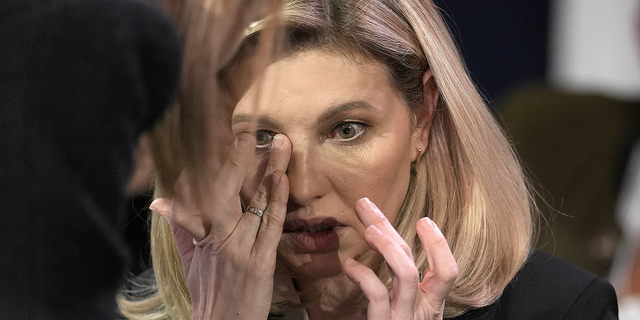 The forum held 15 seconds of silence after opening the session to honor the Ukrainian officials killed. 
"Haven't had time to recover from one tragedy, there is already another one," said the deputy head of the Ukrainian presidential office Kyrylo Tymoshenko. 
The Associated Press contributed to this report.